How to Build a Fire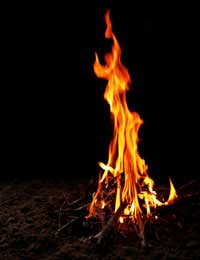 Once you've found or built your shelter, the next important task for you to accomplish is to build your fire. You'll need to ensure that you locate it away from any trees where it could initiate a forest fire and it should be fairly close, but not too close, to your shelter so it can give you added warmth when you're resting or sleeping. In constructing a fire, there are 4 components for you to consider – spark, tinder, kindling and fuel. The 'spark', which is the 'ignition' for your fire, is discussed in another article on this website entitled How to Start a Fire.
Choosing Tinder
Although it's the kindling and fuel which will keep your fire burning successfully, if you don't choose the appropriate tinder, your fire will not be successful in the first place. Tinder can consist of any materials you can find which ignites very easily in order for you to get the fire going. Tinder is probably the most important part of your fire so you should have a sufficient supply so that the fire won't go out. Here are some examples of commonly-found materials that make excellent tinder:
Birch bark
Dry wood shavings
Dead grass, dead moss, dead ferns
Straw
Dead pine needles or similar
Sawdust
You can use a knife to make a powder-like tinder from dry sticks or other dry pieces of bark and if you happen to have any pieces of paper on you which you can shred with your knife or even any dry lint which may be contained in the pockets and seams of your clothes, this makes great tinder also.
Choosing Kindling
Kindling is the combustible material which you place on top of the tinder once it has started to burn. Like tinder, it should be completely dry to ensure rapid burning and should easily light when placed on top of the lit tinder. Suitable materials to use for kindling might include:
Small twigs or small strips of wood
Cardboard
Pine tree knots containing resin
Choosing Fuel
Once the fire is established, it's then time to add fuel in the form of larger pieces of wood to make it bigger and in order to it to keep it burning for longer. The materials you choose for fuel should be less combustible and should burn slowly but steadily and can consist of:
Dry, standing wood and larger branches
Insides of dead tree trunks as long as they're dry
Bunches of dried grass
Dry peat often found near river banks
Dried animal dung
Coal
Different Fire Designs
As long as you follow the correct order of tinder, kindling and fuel and all the materials are appropriate and dry and you wait the sufficient time for the flame at each stage to catch alight, a fire doesn't have to follow a specific shape or style. However, some of the more common designs are called tepee, lean-to, cross-ditch and pyramid.
A tepee fire is, naturally, formed in the shape of a tepee or cone from the tinder and kindling and is lit from the centre. As it gets bigger as you add the fuel, the wood or logs on the outside will fall inwards to keep adding fuel to the fire. It's often a better design than others if some of your fuel is damp or wet.
With a lean-to design, insert a stick into the ground at an angle of about 30 degrees. Ensuring that one point is facing the direction of the wind, place some tinder underneath the stick. Lean pieces of kindling against the stick and light the tinder. As the kindling catches fire from the tinder, add more kindling then add fuel.
With a cross-ditch fire, use a knife or other sharp instrument to scratch an approximate 12 inches long, 3 inch deep 'X' in the ground. Place your tinder in the middle of the cross and build a pyramid of kindling above the tinder. The shallow ditch enables air to circulate under the tinder to provide a draught.
Pyramid fires are good as they burn downwards meaning that they need no attention overnight. To build one, you need to place two small logs or branches parallel to each other on the ground. Then get a small layer of logs and lay them across the base logs. Keep adding about 3 or 4 layers getting progressively smaller and each layer should be set at a right angle to the layer beneath it. Then create the starting fire with your tinder on the top. As that sets alight, it will then light the smallest layer of logs directly beneath it and then this process will continue with each layer beneath meaning the fire burns downwards instead of upwards.
As mentioned, there are no set specific designs you need to use. How you build your fire will be determined by the materials you have available, the location and immediate terrain you'll find yourself in. What is important is that a fire will serve you well on a number of levels, providing you have the correct make up of tinder, kindling and fuel that is dry and that you don't smother the fire with fuel too quickly, which is one of the major causes of fires failing.
You might also like...
My mother saw this and told me to apoligise, I'm truly sorry. I'm in a rough mood as my brownie group went camping without me:( I'm going with my boys u9's now:) WOO!
Alfie Dench
- 22-Apr-14 @ 11:32 AM
I DID NOT FIND THIS THE MOST HELFUL ARTICLE I HAVE READ. I SHALL NOT BE UING THIS WHEN I GO CAMPING WITH THE GIRLS BROWNIE CLUB. FIRE WITH SAWDUST?! ARE YOU HAVING A LAUGH?! MY MOTHER WILL BE WRITING TO YOU.
Alfie Dench
- 22-Apr-14 @ 11:29 AM