Survival Psychology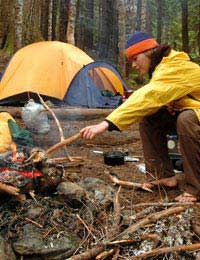 If you are faced with a situation where your life may be at risk whilst pursuing an outdoor adventure activity or you're out in the wilderness, it is perfectly natural to feel a whole range of emotions and whatever your personality is like in day-to-day existence, you are highly likely to experience some, if not all, of the feelings of anxiety, fear, anger, loneliness, depression and even guilt. However, although these kinds of emotions are often associated with negative expressions of how you feel - in a survival situation, they can be invaluable and when controlled and managed effectively, they can increase your chances of survival.
There is a lot you can do to increase the role in which psychology can help you to survive seemingly impossible situations and here are just a few tips.
Learn How to Harness Fear
Even in our daily lives, all of us will have some kind of fear about something. From phobias to work pressures to exam worries to personal relationships, everybody will be scared of something, even if they don't even know it yet. In survival, the key is to identify the things that would scare you the most if you were forced to survive alone and to train in those areas. If you're afraid of camping alone in remote wilderness with no light, practice doing that in a controlled environment, i.e. where you could have access to light if you needed to. By training in controlled situations in which you might otherwise have been frightened, this builds your confidence to be able to function should you encounter a real-life survival situation instead of being paralysed by fear.
Understand Yourself
Your personality and your attitude to those around you can often cause you to act differently in times of stress and worry. It's often useful to get together after a group activity and discuss each other's strengths and weaknesses openly. How we perceive ourselves is not always how others perceive us and by doing this exercise, it enables us to improve our strengths and to work hard on minimising or eliminating our weaknesses which can help to increase our chances of survival when faced with a life or death situation.
Be Positive But be Realistic
You should try to banish any negative thoughts when faced with a survival situation, no matter what difficulties you're faced with. Negativity will sap your energy, cause you to make rash decisions; which are often the wrong ones and can also have a detrimental effect on others who might be with you, as negativity can spread throughout a group of people like wildfire if it's allowed to manifest itself.
If you stay positive and focused it will boost morale which will also improve your creativity and capacity for using your imagination to come up with survival strategies you may not even have thought of had you been consumed by fear. However, you need to temper that positive approach with a touch of realism. Assess the situation as it is, not what you would like it to be and keep your hopes, expectations and plans realistic. Plan for the worst case scenario but keep your spirits up and work towards a positive outcome. That way, you'll be prepared for setbacks, rather than be annoyed, angry or upset if your hopes aren't realised.
Stress Management and Survival Training
We are all proficient at doing something and usually that's because we have learned new skills and have practised them. Survival is no different in this regard and it's incredibly rewarding and invaluable if you enrol on just one survival technique course as part of your outdoor training regime. Even if you don't remember everything you're taught, you're bound to pick up some useful tips and you'll be more psychologically prepared should you be faced with a survival situation in the future.
Stress management courses are also useful where you can learn all about time management, cognitive restructuring in which you'll learn how to control your view of any given situation and assertiveness skills which can come in particularly handy if you are acting as a group leader and are faced with harnessing everybody's skills and efforts when faced with an emergency.
By having an understanding of the psychology of survival, you'll be far more able to make the right decisions, remain confident, take more care in your actions and to retain a belief that you can survive and extrapolate yourself from any difficult situations you may encounter.
You might also like...