How to Cross Rivers, Streams and Rapids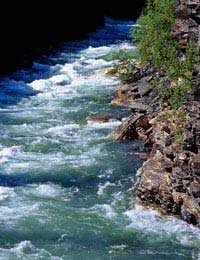 In a wilderness survival situation you may reach a point where you realise that to reach safety, you're going to need to cross a river, stream or even white water rapids. At first glance, this might seem a daunting prospect or, on the other hand, you may feel as though it's simply too dangerous to attempt a crossing. However, with some careful thought, knowing the right techniques and having some kind of plan, it could mean the difference between the amount of time you'll take to extricate yourself out of the situation and, in some cases, may also be the difference between survival or not.
Know What You're Dealing With
Before attempting any kind of water crossing, you need to know what you're dealing with first so you need to establish what obstacles or difficulties you might be facing as, without this knowledge, you could be placing yourself at an even greater risk. The first thing you should do is to try to reach an elevated area of land from which you can look down upon the whole stretch of water which should give you more of an idea of the best place to cross. Climbing a tree is a suitable alternative to get a more general visible overview if you cannot find any elevated position from which to view the area. Things you should be looking out for to make the crossing easier are level stretches of water where it breaks into several different channels. A few narrower channels are usually easier to cross than a wide river. Try to locate any banks or sandbanks if possible and choose a point upstream from the bank so that the current will carry you towards it should you slip or lose your footing. Alternatively, try to select a route across the river that will take you downstream so that you'll cross the current at about an angle of 45 degrees.
Potential Hazards
As well as choosing the most appropriate route to take, it's also important that you try to minimise the risks by looking out for any potential hazards that might impede your progress or put you danger. These can include ledges of rocks which can sometimes indicate dangerous rapids. In fact, you should try to avoid any rocky areas altogether as although they can sometimes assist your passage by breaking up the current, they can be very slippery indeed and you could sustain serious injuries. And, remember, it's not just the rocks you can see. Where there is a presence or rocks, there are likely to be several of them which are submerged and which you cannot see which also presents a risk of injury. Also, look out for waterfalls. You won't want to be attempting any crossing close to a waterfall if you can avoid it. Beware of crossing any river estuaries too. They can often appear calm on the surface yet they are susceptible to strong currents and are subject to tides so you should avoid crossing these and head on back upstream to see if you can find an easier route to cross.
Deep Water or Shallow?
Don't make the mistake of automatically thinking that shallow water will be far easier to cross than deeper water. Whilst that might be the case in some instances, providing you are a fairly strong swimmer, deeper water often flows at a much slower rate than more shallow stretches so it can actually make it easier to cross. Getting wet should not be a consideration in a survival situation of this kind. You can always dry out both yourself and your clothes later, although you should not attempt to swim in water for any length of time if the water temperature is extremely cold as you might end up suffering from hypothermia which can often be fatal.
Crossing Rapids
If your only option is to swim across rapids, always swim with the current and never against it. If you also keep yourself horizontal to the water, this will also reduce the chances of being pulled under. If the current is so fast that you'd be unable to actually swim, there are two different techniques to 'surf' the rapids, depending on whether they're shallow or deep. If they're shallow, lie on your back with your feet pointing downstream and place your hands at a horizontal angle to your hips so that they act like fins and keep your feet up so that they don't get snagged on rocks. This technique will act as a floating mechanism. In deeper rapids, however, you should come downstream on your stomach trying to maintain an angle that keeps you close to the shoreline and being vigilant and trying to avoid any swirling whirlpools that can occur which can suck you under.
Removing Your Clothes
You're going to get wet anyway and may also have to endure some chilly temperatures in a water survival swim attempt, so you should remove your shirt and trousers before attempting to swim to safety as to keep them on will only affect the water's pull on you but keep your footwear on to protect your ankles and feet. You can tie your clothing to your rucksack altogether. That way, if you and your rucksack happen to part company during your attempt to swim to safety, it's easier to relocate one pack with all your belongings than to rescue several. Also, make sure that you can release it quickly and easily should you get into difficulty. Many people have drowned by not being able to remove their rucksack quickly in this kind of scenario.
In a survival attempt of this nature, it's always important to carefully consider your best options and to be as prepared as you can. Crossing rivers, streams and rapids can be daunting but by knowing the right approach, it can mean the difference between life and death.
You might also like...