Rescue and Recovery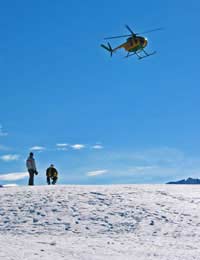 In most survival and search and rescue situations where it has been reported that people are missing, the situation is usually resolved within 48 hours. This is because of the training, capabilities and the responsiveness of professional search and rescue teams. However, in order that a survival situation can reach a happy outcome in as short a timescale possible, survivors themselves also have to be aware of their responsibilities both before and during a rescue and recovery situation in order that they are fully prepared for a rescue attempt.
Signalling Preparation
Signalling is dealt with in more depth in another article contained on this website but it's crucial that you know how to signal for help correctly and to do so in the most appropriate location. That means that as soon as you have got the basic priorities of survival covered, you need to evaluate the environment surrounding you and look for possible landing zones, drop zones or suitable places in which boats can moor up or at least get close to you. In fact, once your basic survival needs are met, you may even wish to relocate your position to a nearby but more suitable place for a rescue attempt if it is practical for you to do so, before you start attempting to signal for help. However, you need to weigh this up against any information you have left with people back home as if you have told them your destination and you stray too far from it, your rescuers may not know where to look as they will tend to start searching from your last known position and then work outwards from there.
How You Can Tell You've Been Spotted
Unless you're the sort of person who comes fully 'tooled-up' and you have an emergency radio on you, rescuers are only too aware that most people facing a survival situation have no means of direct communication with their rescuers but there are some signs which they can give to let you know that you've been spotted and that help is at hand. A ship might sounds its horn or might be able to use a searchlight or some similar device to send you a signal to let you know they've seen you and a light aircraft will usually raise and lower its wings in a kind of rocking motion. This is an indication that they have spotted you and you shouldn't panic if they then leave the area. This might simply mean that they are low in fuel and need to refuel or it may mean they are summoning help from a helicopter to complete the rescue mission, so you should not give up hope and should simply stay put.
Preparing for the Rescue Attempt
In the event of a rescue attempt being made by a helicopter or light aircraft, you need to ensure that anything that you have lying on the ground which could get sucked up by the rotor blades or inside an aircraft engine are removed out of harm's way. This might include tents, tarps, ropes, blankets etc. You also need to keep a safe distance from any landing area if you've been told that the aircraft is going to land.
Staying Calm and the Importance of Following Orders
Many people who have never faced a survival, rescue and recovery situation before often make the fatal error of thinking that once a rescue team has spotted them, then it's all a matter of 'plain sailing'. However, you would be foolish to think this and many rescue attempts have had to be aborted due to the inability of those being rescued to follow instructions carefully and, in some cases, not following instructions given by the rescue teams has resulted in death.
Take a helicopter, for example. It's not always as simple as the chopper landing on an open patch of ground and then all the survivors simply clambering into it. Depending on the terrain and environment, a helicopter might have to use a horse collar, a winch, a basket or even a rope to lift you from the ground. And, if you don't follow instructions to the letter which the crew will give you prior to the rescue attempt, it could end up being disastrous. Neither should you panic. Despite your relief, it's important that you remain as calm as possible and follow any instructions to the letter. After all, the rescue crews do this for a living and are highly professional and well-trained. By ignoring their instructions, you are placing yourself at risk of severe injury or even possibly death. This is as equally as important if a boat or ship is providing the rescue – simply pay heed to the instructions which you might be given. People have even got as close to safety as a rescue craft's doors but have still been lost due to their inability to follow instructions or through panic or impatience.
If some device is being used to bring you into an air or sea craft, do not let go of the device even though you think you might be safe. Always wait for a rescue technician to remove you from the device. A split second too soon can mean the difference between survival and death.
By using common sense, understanding the mechanisms of how a rescue and recovery takes place, preparing for the rescue and following instructions from the rescue crew, you'll be able to complete the final stage of survival - the rescue and recovery stage which is often the most challenging and difficult.
You might also like...