Survival Classes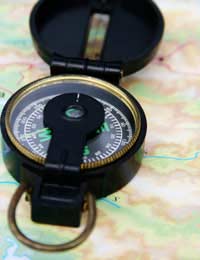 Knowing how to survive in the wilderness isn't a natural skill; it's one you need to learn. There are books and DVDs, and these can be useful (very useful in some cases), but there's only so much they can teach. For many people it's better to be shown something, to experience it properly, in order for it to stick in the brain.
That's why survival classes can be so important. They offer a true hands-on chance to learn the skills you need to survive outdoors in real conditions, and from people who are experts in the field.
Types of Courses
Courses typically range from an introduction for beginners, lasting a single day, to intermediate and advanced survival, which will typically include a stay of up to six nights.
The introduction, by its nature, covers the basics necessary to live if caught out in the wilderness – shelter, water and food – as well as navigation and equipment. These are the vital skills for the outdoors, and they're taught in small classes; most schools will offer the course several times a year.
From there, those interested can graduate to intermediate and advanced courses, the toughest being one that involves outdoor living for seven days, combining learning new skills with putting the ones already known to good daily use.
Who Attends the Courses?
There's a very wide range of people who attend the courses. Certainly a fair number are genuinely interested in survival techniques for a number of different reasons. There are also corporate team-building exercises, and those who simply want to push themselves and learn new skills.
The more advanced courses will pull a serious clientele, especially those that require living off the land for several days and nights. These offer a real challenge, often including navigation without tools to return to the starting point.
What's Gained From Them?
Even the basic course will teach enough to survive – for a while at least – in the outdoors, and some vital first aid. For those who hike or climb, or follow any manner of outdoor pursuits, at least some of these skills could well prove useful at some point, especially the first aid and navigation.
The more advanced courses are likely to have fewer direct applications, except for those who really want to go out there and challenge nature, and there won't be many of those. But the knowledge itself can be used in other ways, such as foraging for cooking.
Cost
Perhaps unsurprisingly, the courses aren't cheap. A one-day course is likely to run around £125, although this won't include travel to the teaching centre, whilst longer courses increase in cost, up to £500 for a full seven-day course.
That means they're not something to be booked on a whim (for intermediate and advanced courses you usually need to have first completed the level below). Someone going all the way through could easily spend almost £1,000 on learning how to survive and thrive in the wilderness, which is a hefty investment. For those who do decide to go, however, it's considered money well spent, and very worthwhile for the one-on-one tuition that achieves things no book or DVD can.
You might also like...