How to Communicate With the Locals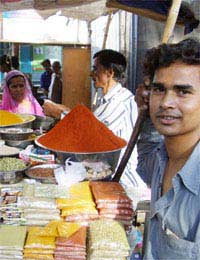 Unless you are faced with a survival situation in a war zone or in some other kind of potentially hostile environment, the vast majority of strangers you'll encounter will usually be benevolent towards you and look to try to help you in spite of any language barriers. However, they may be shy and wary of you at first. Unfortunately, in other circumstances, you might not be able to take 'a warm welcome' for granted yet it might still be necessary for you to try to communicate with the locals.
Respecting Cultural Differences
It's vitally important when attempting to communicate with the locals that you respect their culture and the different values and beliefs that may be at odds with your own. Whether the locals live in communities in the developed world or they live a much more primitive life, they will all have their own social and economic values as well as religious and political beliefs that might be poles apart from your own. Furthermore, they'll have their own laws too.
Obviously, you can't be expected to understand all of these cultural differences straight away but a smile is a universal form of communication and if you're patient, courteous and respectful, you're more likely to be welcomed into a community. Just remember however, that many local peoples can act in quite a shy and reserved manner to strangers at first and they might ignore you. All you can do is to take your time and try to ingratiate yourself slowly with one person at a time. In a tribal community, you will normally do this via the tribal leader first.
You should be open and friendly but always be wary that local political attitudes, propaganda and warfare can make local peoples very nervous about meeting outsiders.
Communication
Sign language and acting out what you're trying to say is going to be your best hope in communicating with the locals if one or both you do not understand the other's language. If you have advanced notice that you're going to be travelling to a particular region where English is not spoken, it's always useful and respectful if you take time to learn a few useful words or phrases of the local language. Also learn some phrases associated with your occupation as strangers will often want to establish what you do and how you've ended up in their community before they feel more at ease with your presence.
Respecting Hospitality
Once you have ingratiated yourself with a particular local community, it will often be customary for some tribespeople to show you so much hospitality that sometimes they might even seriously reduce their own food supplies so that they can feed you. If you find yourself in this situation, respect this cultural tradition and accept what they offer and eat the food in the same way they do. If you have items on your person that you might be able to use as repayment for their kindness, do so. Respect personal property and privacy and no matter what style of house they might live in, do not enter unless invited.
Respecting Cultural Differences
You can only learn about the cultural differences through observation and by listening. Try to learn things as quickly as possible. If you see someone practising a technique or skill, ask them if they might teach you it or offer to help in some way. If you get stranded in a potentially hostile environment, try to find out from the locals who have been friendly towards you what the hazards are and the places to avoid.
Try to get a good grasp of the locals' attitudes towards things like religious beliefs and rituals, sacred places and sacred animals through observation. Also be very careful about touching people and take your cue from them. Remember, our own Western ideas about things like hugging, putting a sympathetic arm around the shoulder or giving someone a kiss on the cheek as a welcome greeting may have very different connotations to tribespeople.
Trading And Bartering
In situations where you may need to barter for buying goods or services that will ultimately help you to survive, most societies will have some kind of paper and coin monetary system operating. In places where that doesn't happen or if you find yourself without conventional currency – tobacco, salt, matches, razor blades, empty containers and cloth are often used as money substitutes. In any locality, it won't take you too long to recognise what's 'king' when it comes to a community's monetary value.
The important thing about trading and bartering is to be respectful and discreet. Treat people with courtesy and don't try to bully them or mock them. Don't vastly overpay for goods and services. It could cause embarrassment and could even be dangerous. In general, however, showing courtesy, respect and having an attitude of openness about you whilst taking your time not to try to ingratiate yourself too quickly represents your best chance for engaging in friendly and open communications with local peoples. Don't forget to smile a lot too!
You might also like...