Where are the Best Places to Find Flint?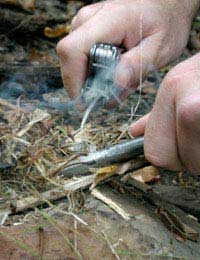 Q.Just wondering if it's possible to find flint in woodland?
If it is where are the best places to have a look?
(Mr Geraint Radford, 8 October 2008)

A.
It has been assumed here that you want to look for flint in order to use it as a natural means to start a fire. If so, you can find flint wherever you can find chalk and the likes of uprooted trees and creek beds are usually a good place to start. Granite or any good quartzite will also do the job.
However, if you're faced with a survival situation, time will be a precious commodity especially with regard to keeping warm and the last thing you want to be doing is searching around for something to spark a fire so the best thing you should do is to buy a flint fire starting kit. You can pick these up for around £20 from most specialist outdoor adventure shops. As well as the flint stick, the kit will comprise a piece of steel and the many outdoor enthusiasts say that the best ones consist of a magnesium block as the shavings you get from that will produce an intense heat far more quickly.
When you strike the spark, you're basically shaving off minute fragments of steel with the sharp edge of the flint –the harder the steel, the hotter the fragments and the sharper the flint, the more sparks you will generate. Strike downwards at an angle on the steel so that the fragments fall onto the tinder you've collected and eventually the tinder will catch alight. Depending on the heat you've been able to generate, you may need to cup the tinder in your hand as soon as you see any signs of smoke and blow on it gently to make it ignite.
This is a skill which is quite easy to master and there are plenty of survival courses you can go on to learn how to do it. And, as fire is one of your greatest priorities when faced with a survival situation, it is a skill that you should definitely learn, especially if you go trekking in remote places. Things like lighters can fail and matches can get wet so it's good to know how to start a fire by natural means and as these little flint fire starting kits are small, they are easy to carry around and should be an essential item to put in your survival kit.
If, on the other hand, you're looking for flint to make tools with, there are plenty of flint knapping courses available too which may be of interest.
You might also like...